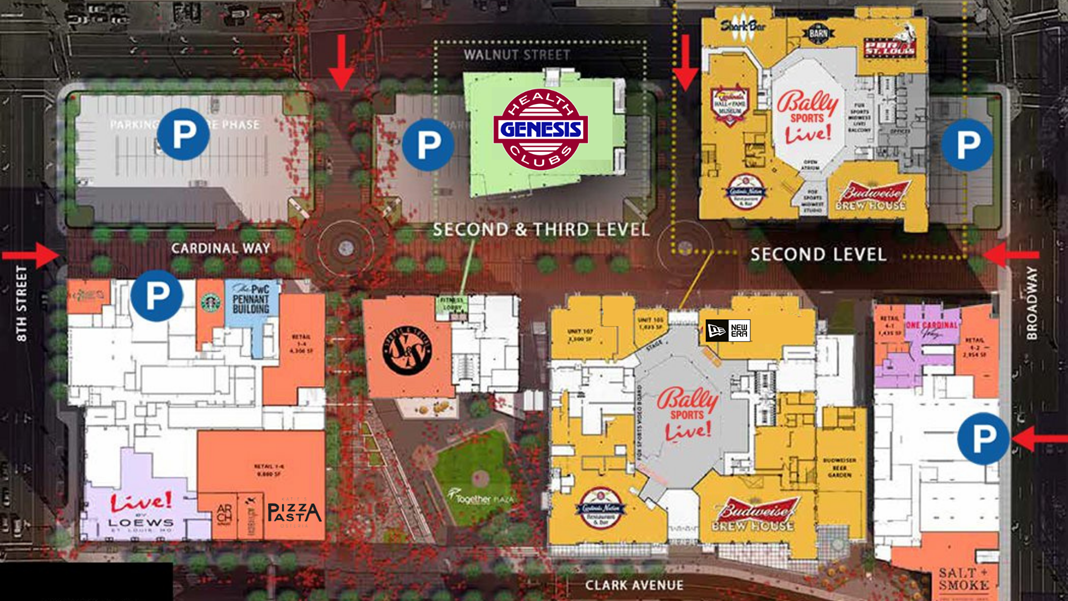 PARKING LOCATIONS
Entry off Walnut, Broadway, & 8th street in the Ballpark Village lots & PCW Pennant Building garage.
GENERAL PARKING INFORMATION
Self-Parking: 3 hours of free parking is available if you park before 9 p.m. (excluding Special Events), 7 days a week.*
After 3 hours, regular Transient Parking Rates apply.
*Ticket validation is required. Parking validation ticket must be obtained before 9 p.m.
-
TRANSIENT PARKING RATES
$1 per 20 minutes
Early Bird Rate: $6 - Entry between 6 a.m. - 8:30 a.m., exit between 2 p.m. - 5:30 p.m.
Night Owl Rate : $5 - Entry after 9 p.m., exit before 6 a.m.
Overnight parking is prohibited and subject to a maximum daily rate of $16.
Lost ticket fee $32.
-
SPECIAL EVENTS / GAME DAY PARKING INFORMATION
Self-Parking: Rates range from $5 - $50
Valet Parking: Rates are $10 higher than Self-Parking prices.
Certain Special Event dates are available for pre-sell.
Please visit the St. Louis Parking website for more info.
-
METROLINK
MetroLink is a convenient alternative to driving. Visitors may exit at Stadium for quickest access to Ballpark Village.
For more information regarding routes, rates, and MetroLink locations, please visit the MetroLink website.
-
For questions or assistance with parking please contact St. Louis parking at (314) 241-7777.