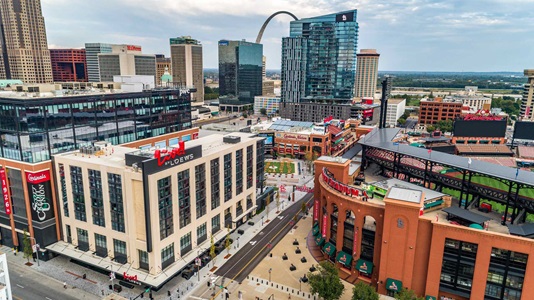 News
Loews Hotel groundbreaking marks 'new milestone' in Ballpark Village Tuesday

The Cardinals celebrate another milestone in phase two of Ballpark Village Tuesday.

Cardinals break ground on second phase of Ballpark Village, announce PwC as anchor

The St. Louis Cardinals, along with their development partner Cordish Cos., broke ground Thursday on the $260 million second phase of Ballpark Village.

St. Louis Reconnects With the Gateway Arch and Its Pioneer Spirit

Construction on a new entrance to the visitor center at the Gateway Arch in St. Louis, part of a $380 million project to improve the 91-acre Jefferson National Expansion Memorial.

Putting the 'village' in Ballpark Village – $261 million will transform the skyline

Secured by decades of future taxes from Cardinals fans, investors clamored last week for the bonds that would help to finally put the "village" in Ballpark Village.

Ballpark Village finalist for global excellence award

Ballpark Village is among 25 developments worldwide in the running for a global excellence award from the Urban land Institute.

Hundreds of Hospitality Jobs up for grabs at Ballpark Village

The hotspot has hundreds of seasonal positions up for grabs and many of those positions could end up being permanent.